Speeding up geodata verification
DB Schenker is a global leader in logistics and supply chain management solutions. Accurate, reliable geographical data is essential to their operations—and easy-to-use, validated postal codes are a fundamental part of that.
Using GeoPostcodes helps the DB Schenker Geographical Information Services team:
Find postal code data 300x faster
Create digital visualizations and maps with postal code boundaries
Offer a smoother and faster experience for their customers
We talked to William Chao, Product Owner of Geographic Information Services for DB Schenker, about how GeoPostcodes helps them save time with reliable, up-to-date postal data.
Why does geographic information matter to a logistics company like DB Schenker?
WILLIAM: "Logistics and shipping are all about knowing where things are located in the world and figuring out how to move them around efficiently and effectively. That's the core of our business."
Why is it so challenging to get accurate geographic location information?
WILLIAM: "The world is constantly changing. New localities and neighborhoods open up or become dispersed. You have to keep up with those changes."
What role do postal codes play in that?
WILLIAM: "When we want to locate where things are in the world, we use postal codes, so it's very important to have accurate information."
How did you confirm postal codes before GeoPostcodes?
WILLIAM: "We validated postal codes manually, using search tools, which was time-consuming."
Are there any other advantages to working with GeoPostcodes?
WILLIAM: "We know that geographic data can change over time. It's good to know that GeoPostcodes is keeping on top of those changes and providing us with very updated information to work with. We refresh our data with them regularly, and they're adding more information to cover more and more countries all the time."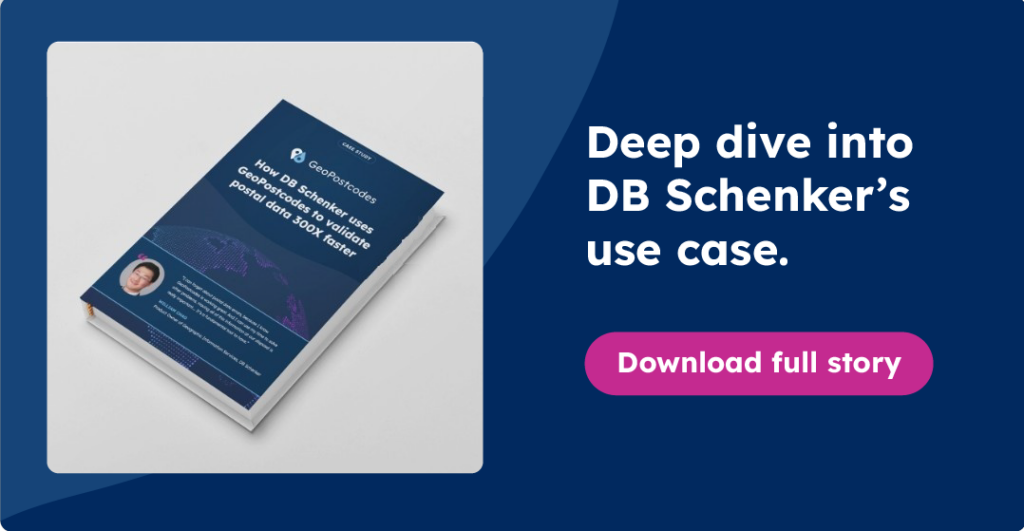 How would you describe the service you've received from GeoPostcodes?
WILLIAM: "The GeoPostcodes team has been very responsive and cooperative. If we have any issues, they've been really quick to address them and work to fix them, often within the same day."
How critical is GeoPostcodes to your work?
WILLIAM: "Digital mapping is a huge topic. Having this fundamental piece of the puzzle streamlined like this is really beneficial for us."
What would you say to someone in your position who's considering subscribing to GeoPostcodes?
WILLIAM: "I can forget about postal data errors because I know GeoPostcodes is working great."

Using GeoPostcodes has enabled DB Schenker to standardize its internal location data for cost-effective worldwide shipping.
The usage of Geopostcodes' postal and street databases has enabled DB Schenker to standardize their address input in the quoting process. Our boundaries database has allowed them to perform map visualization to avoid wrong place delivery. The integrated UN/LOCODE additional dataset helps set up the proper shipping means through geographic association.
Our weekly updates ensure your location data is always accurate and up-to-date. Try out GeoPostcode's database and discover how we can tailor our offer to your use case.
Products featured in this case