Speeding up geodata verification
Opterrix is the leading provider of risk intelligence solutions in the insurance industry. Their robust platform empowers insurance carriers to mitigate avoidable losses through accurate and cutting-edge risk assessment tools. They leverage innovative technologies to give insurers the necessary insights to make informed decisions and protect their clients.
Using GeoPostcodes helps the Opterrix team:
Produce high-quality visualizations with nested boundaries
Improve risk analysis with updated zip code coordinates
Increase accuracy thanks to the weekly data updates
We talked to Dave Hamm, Geographic Information Services Project Manager, about how GeoPostcodes helps him save time with reliable, up-to-date postal and boundaries data.
What was your main challenge regarding zip code boundaries in risk assessment?
DAVE: "Accurate and up-to-date zip code boundaries are essential when assessing natural hazard risks. However, we encountered challenges due to inaccurate and outdated zip codes, often leading to improper identification of addresses at risk. This left insurers vulnerable to unnecessary losses and affected their ability to make risk-based decisions."
How did GeoPostcodes help address this challenge?
DAVE: "GeoPostcodes came to our rescue with their comprehensive zip code database. Their database provided us with accurate zip code coordinates and boundaries, which helped us determine the extent of damage and identify the affected zip codes with precision.
The multi-level boundaries offered by GeoPostcodes were perfectly aligned, enabling seamless integration with multiple secure cloud platforms. Additionally, their weekly updates for zip code coordinates guaranteed that insurers had access to the most reliable and up-to-date information."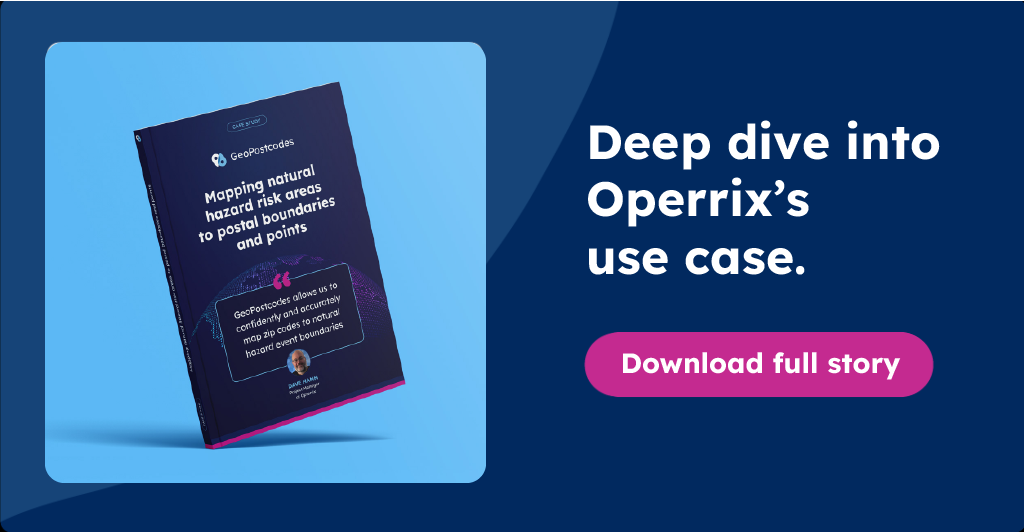 What were the results of your collaboration with GeoPostcodes?
DAVE: "Collaborating with GeoPostcodes had a great impact on our risk intelligence software. We significantly improved our platform's quality by incorporating high-quality location data.
Our software can now provide more accurate visualizations for risk analysis and natural hazard monitoring. This helps insurers to make informed decisions and minimize avoidable losses per zip code and administrative areas."
What advice would you give to companies or industries facing similar challenges?
DAVE: "We highly recommend prioritizing the accuracy and reliability of data in risk assessment efforts. Inaccurate zip code boundaries can negatively affect decision-making and expose businesses to unnecessary losses.
Partnering with a reliable data provider like GeoPostcodes can improve risk assessments and protect the interests of companies and their stakeholders."
What would you say to a company debating choosing GeoPostcodes as their provider?
DAVE: "At Opterrix, we are committed to revolutionizing risk assessment in the insurance industry. Our partnership with GeoPostcodes has played an essential part in achieving this goal, and we encourage others to explore similar collaborations to enhance their risk assessment capabilities."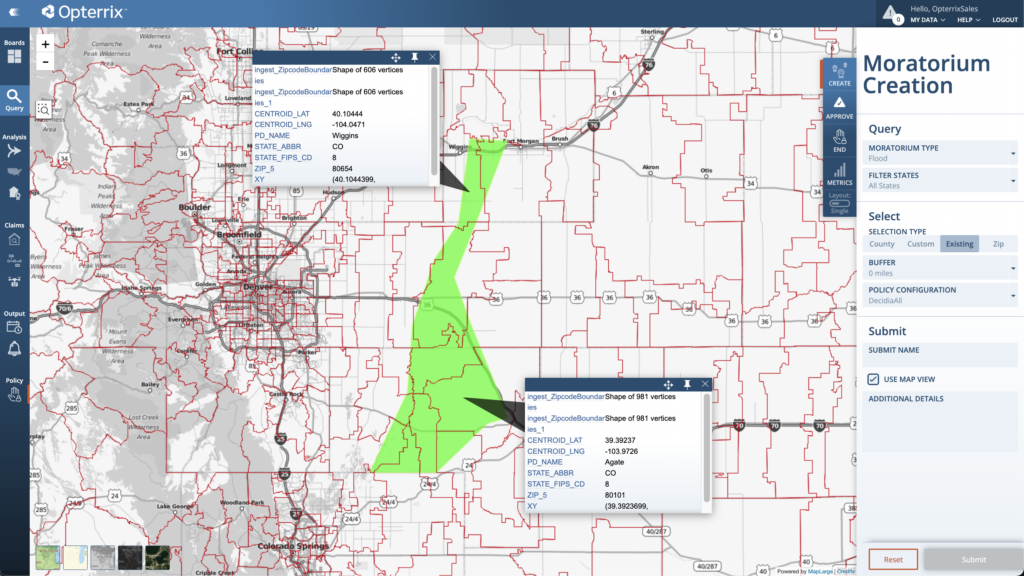 Using GeoPostcodes has enabled Opterrix to improve the accuracy of its product software for enterprise risk analysis and natural hazard monitoring.
The usage of Geopostcodes' boundaries and postal databases helped Opterrix to improve the quality of the identification of the addresses at risk. Our boundaries database has allowed them to perform map visualization to determine risk areas based on affected zip codes.
Our weekly updates ensure your location data is always accurate and up-to-date. Try out GeoPostcode's database and discover how we can tailor our offer to your use case.
Products featured in this case ​